Main Content
EXCELLENCE IN HEALTHCARE CONSTRUCTION
Streamline Construction is a West Coast provider of medical construction services to hospitals, medical business offices, and skilled nursing facilities, with general contractor's licenses in California and Nevada.
We understand that medical facilities operate around the clock in order to properly serve their patients, and require first-rate construction and maintenance services to facilitate this high-quality patient care. Streamline Construction's mission is to do whatever is necessary to support our clients, and to do so with minimal interruption to normal hospital operations.
In addition to our decades of experience performing construction and repairs in compliance with the regulations of HCAi (formerly OSHPD), we take special care in ensuring that our crew members are continually educated on updates to regulations and best practices relating to ISLM, FLS, OSHA, HCAi/OSHPD, mold and asbestos abatement, and crew safety standards.
We have construction divisions that handle a variety of projects, including the ground-up construction of modality rooms and facilities for equipment such as MRIs and CT scanners, smaller HCAi/OSHPD projects, ongoing facility maintenance, Fire Life Safety repairs, designing and building custom cabinets and storage, and much more.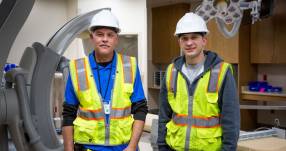 Join the Team!
Want to be part of a great company? We offer great benefits and competitive salaries.
Apply Today!
530.272.6806
License #742140